Health crisis : I.S.Rivers adapts and offers you 2 meetings in 2021 and 2022
>> The organisation of international webinars every monday in June 2021, focusing on some of the themes of the I.S.Rivers call for papers. It will be a great opportunity to discover, through a few communications, the spirit of the I.S.Rivers conferences.
>>The postponement of the I.S. Rivers conference to July 2022, in order to be able to envisage the event in person. We hope that I.S.Rivers will remain a place of exchange and meeting for the large community of scientists and practitioners that you constitute.
The call for papers for I.S.Rivers 2022 will be launched in September 2021.
>> Take part to the webinars, on June 2021, 7, 14, 21 and 28!
About I.S.Rivers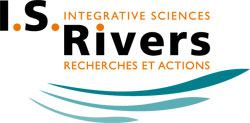 The ambition of I.S.Rivers - integrative sciences and sustainable development of rivers - is to promote multidisciplinary approaches, to engage all stakeholders and to build links to stimulate European and international collaborations between scientists and river managers.
[ more + ]
I.S.Rivers in a nutshell:*